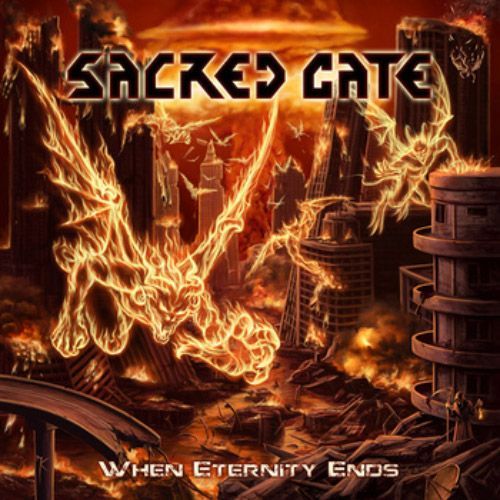 A co powiecie na mocny album z pogranicza heavy power metalu? Co powiecie na album, gdzie mimo roku 2012 sięga się po patenty z starych epok, głównie lat 80? Co powiecie na krążek gdzie stawia się na klasyczne podejście do tematu, gdzie nie ma eksperymentowania? Tak w kilku słowach można by opisać debiutancki album "
When Eternity Ends
" który jest propozycją niemieckiego zespołu
SACRED GATE
. Jednak ten krążek to znacznie więcej. To również kluczowa rola wokalista Jima Olivera , który obdarowany został dość charyzmatycznym wokalem i trzeba przyznać że warsztat techniczny sprzyja jemu i dostarcza słuchaczowi sporo emocji i niespodzianek. To co składa się na ten album jak i styl SACRED GATE to bez wątpienia ekstrawagancki styl grania gitarzysty
Nicka Nikolaidisa które przepełnione są dynamiką, rytmicznością, dobrze zaaranżowanymi solówkami, z których kipie energia i niezwykła melodyjność. Niby jest to standard, ale precyzja i technika sprawia że ten aspekt jest wręcz mocną stronę tego albumu. A wspiera go w tych partia cały czas drugi gitarzysta czyli Rainer Schaffranietz oraz dynamiczna sekcja rytmiczna, które dostarcza sporo dynamiki i kopa poszczególnym utworom. Do tego dochodzi dobrze przyrządzone brzmienie które zaspokoi nawet najbardziej wymagających słuchaczy. Zanim przejdę do najważniejszej części opisania tego albumu, warto przytoczyć krótki aspekt historyczny dotyczący samego zespołu. Wszystko się zaczęło właściwie w roku 1999 kiedy to został założony zespół MADE OF IRON, który grał covery IRON MAIDEN. Pod tym szyldem zespół zaczął później tworzyć własny materiał i tak w ramach tego pojawiło najpierw demo "King Of All Kings" w 2003 roku i mini album EP "Made Of Iron" , potem zespół dorobił się w 2004 roku debiutanckiego albumu o tytule "Made Of Iron" i potem zespół się rozpadł. W 2008 r Nicko, Jim i Holger postanowili rozpocząć przygodę muzyczną na nowo tym razem pod nową nazwą zespołu, a mianowicie SACRED GATE. Potem jeszcze zwerbowano drugiego gitarzystę i zaczęły się ciężkie prace nad debiutanckim albumem.
Co kryje się pod tą jakże miłą dla oka okładką? Czysty energiczny heavy metal z elementami power metalu, gdzie jest w tym wszystkim sporo starej szkoły heavy metalu, zwłaszcza IRON MAIDEN, ale jest sporo w tym takiego współczesnego podejścia jakie ostatnio prezentował choćby DRAGONSCLAW czy REVENGE. SACRED GATE to specjalista od mieszania heavy metalowej zadziorności, ostrego grania z power metalową dynamiką i przebojowością i w takiej konwencji jest utrzymana większość utworów. Melodyjny "
Creators of the Downfall
" to znakomity przykład tego gdzie jest zastosowana ta konstrukcja. Ten utwór ujawnia znacznie więcej. Przede wszystkim dobrą, nawet bardzo dobrą pracę muzyków, które zaskakują dopracowaniem, precyzją i pomysłową aranżacją, a melodie i chwytliwe refreny to cecha właściwie wszystkich kompozycji. Fani IRON MAIDEN, DIO, czy też BLACK SABBATH w stylu "Neon Nights" mogą zapuścić w ciemno taki "
Burning Wings"
. Tutaj sporo nawiązań do tych kapel, sporo czerpania z klasyki i wszystko przeniesione do współczesnych czasów, gdzie mamy mocne brzmienie i ostre gitary. Właściwie co utwór to przebój i już taki "
The realm Of Hell
" to taki rasowy przebój, który świetnie nadaję się do podgrzania atmosfery na koncercie, szybko zapada w pamięci. Z kolei w takim rozbudowanym, zadziornym
"When Eternity Ends"
można wyłapać motywy JUDAS PRIEST czy też amerykańskiego REVENGE. Podoba mi się też ładunek emocjonalny w balladzie
"Freedom or death"
o zabarwieniu epickim, z ciekawie rozplanowaniem i urozmaiceniem pod koniec. Zespół zaczynał jako cover band ironów i to słychać niemal w każdej kompozycji, a taki "
In The heart Of Iron maiden"
to znakomity hołd dla tej formacji i dowód na to że zespół sporo zawdzięcza Brytyjczykom. Melodie i jeszcze raz melodie, to one są największym atutem tego albumu, największą bronią zespołu, gdyż cały czas się coś dzieje cały czas jest zaskoczenie mimo jasno określonej struktury która jest ograniczona i bardzo wąska. Dowód tej niezwykłej pomysłowości co do melodii jest "
Vengeance".
Smaczku albumowi dodaje na pewno nieco true metalowy "
Earth, My Kingdom"
z marszowym tempem i ciągotami do MANOWAR. Całość zamyka rozbudowany i urozmaicony "
Heaven Under Siege",
gdzie w pewnym momencie pojawią się motywy RUNNING WILD.
Bardzo mocna rzecz. Zadbano o aspekt muzyczny, techniczny a muzycy dowiedli na tym albumie że znają się na rzeczy i potrafią nagrać bez większych problemów solidny album który cechuje się precyzją, melodyjnością i przemyślanymi aranżacjami. Minus? Wtórność, która właściwie jest jednocześnie aspektem, który zapewnia niezłą rozrywkę słuchaczowi i dostarcza sporo frajdy.