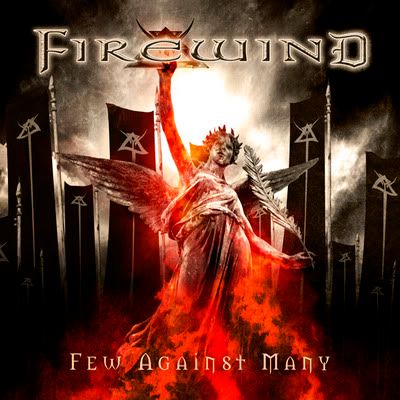 Gus G lider greckiego FIREWIND ostatnim czasy był dość zapracowany, najpierw było dołączenie do zespołu OZZIEGO OSBOURNE'A i jednoczesne prace nad albumem Ozziego i FIREWIND z czego złego najsłabiej wypadł "Days Of Defiance", który był po prostu słaby, mało strawny i dalece od tego co zespół grał. Można było wybaczyć jeden słabszy album, który miał do zaoferowania tylko dobre brzmienie i wykonanie kompozycji. Jednak drugi taki album to już lekka przesada. Niestety, ale oczekiwania i moje nadzieje związane z nowym albumem "Few Against Many" legły w gruzach. Został powtórzony ten sam błąd, czyli silenie się na ciężkie granie, skupienie się na mocnym brzmieniu, na mocnej sekcji rytmicznej i zadziornych partiach gitary. Niestety to wszystko sprawia, że gdzieś został utracony duch tego zespołu, uleciała lekkość znana z pierwszych albumów, brakuje mi tej przebojowości, z której byli znani do tej pory. Brakuje też mi atrakcyjności, emocji i finezyjności w partiach Gusa G, gdyż za dużo w tym mocnego grania, zbyt duży nacisk na ciężar, a szkoda bo ten gitarzysta ma więcej w zanadrzu niż takie granie, które bardziej by się nadawało na kolejny album Ozziego. Jednak doświadczenie i staż ratuje ów album przed totalnym ośmieszeniem, bo jednak jest precyzja i dbałość o wykonanie. Tylko co z tego skoro nic z tego nie trafia do słuchacza?
Można by zrobić długi rozwód nad otwierającym
"Wall Of Sound"
który nawiązuje trochę do "Forged By Fire" jest podobny ciężar, taki nowoczesny wydźwięk, jednak pomysłowość już nie ta i brakuje tutaj takiego pomysłu podobnej klasy. Co z tego że brzmi to dobrze, jest ostry cięty riff, kilka ciekawych momentów, gdzie Gus G prezentuje to co potrafi najlepiej a mianowicie wirtuozerskie popisy na gitarze i to zawsze mu dobrze wychodziło. Również reszta muzyków gra dobrze, z precyzją i dużym bagażem doświadczenia i najlepiej wypada boski Apollo, który dzisiaj jest jednym z najlepszych wokalistów heavy metalowych i słychać że jest w bardzo dobrej formie. Utwór dobry, nawet bardzo dobry, ale to nie jest szczyt możliwości Gus G i FIREWIND. Jednym z najlepszych utworów na płycie jest dla mnie nieco bardziej rozbudowany "
Losing my Mind
", który też posłużył zespołowi do promocji albumu. Ten utwór bardziej przypomina mi już album "Allagience" co słychać w nieco progresywnym, rockowym wejściu, gdzie potem mamy już taki typowy FIREWIND, gdzie jest w końcu jakaś atrakcyjna melodia, jest zróżnicowanie w obrębie utworu, pojawia się zapadający riff, dobrze dopasowane linie wokalne i no i jest to taki FIREWIND jaki lubię, przede wszystkim przebojowy, melodyjny, a to niestety jest to rzadkie zjawisko na tym albumie. Również znany wcześniej był mi tytułowy "
Few Against Many"
i co ciekawy jest to kolejny heavy/power jakiego ostatnio pełno, co ciekawe mało w tym wszystkim finezji, mało tej przebojowości i samego FIREWIND. Mam wrażenie że zespół staje się jednym z wielu, a szkoda bo zawsze byli zespołem co się wyróżniał. Na plus warto na pewno zaliczyć przebojowy "
The Undyinf Fire
" który również sięga do patentów z "
Forged By Fire
".
Sam utwór cechuje się niezwykłą rytmicznością, dynamiką i takim koncertowym wydźwiękiem. Do udanych kompozycji można też zaliczyć najszybszy, najdynamiczniejszy utwór na płycie czyli
"Another Dimension"
który znów ma przesyt ciężaru i nieco chaotycznie brzmiącą sekcję rytmiczną. Jednak jest to kompozycja godna uwagi. Obok "Losing My Mind" do takich rasowych kawałków FIRWIND gdzie jest lekkość, przebojowość to zaliczam nieco rockowy
"Destiny".
Mimo tych kilku pozytywnych momentów trzeba przyznać, że zespół najlepsze lata ma już za sobą i właściwie słychać wyczerpanie materiału i wypalenie zespołu. Sporo nie udanych, wręcz nie trafionych pomysłów, jak choćby konstrukcja
"Glorius",
nie pasujących do stylu zespołu tak jak to ma miejsce w rozlazłej balladzie
"Edge Of Dream
" gdzie zespołowi wtóruje APOCALYPTICA . Brak pomysłu co do melodii, refrenu, co do tego jak powinna brzmieć całość słychać w dość ciężkim
"Long Gone Tommorow"
albo nie zdecydowanie i wkroczenie w rejony komercyjne tak jak to jest w przypadku
"No hereos No Sinners"
.
Moje przeczucia związane z tym wydawnictwem jak i zespołem w sumie się spełniły, niczego od nich nie wymagałem, nie oczekiwałem i też nic nie dostałem. Trzy lub cztery znośne kompozycje to trochę za mało na muzyków tej klasy, na zespół z takim stażem i doświadczeniem. Przypomina to poniekąd sytuację nowego albumu NIGHTMARE gdzie jest i soczyste, wysokobudżetowe brzmienie, jest dbałość o wykonanie, o to żeby było ostro, ciężko i żeby było można poczuć moc, która właściwie jest sztuczna. Nie warto jak dla mnie tracić czas na ten album.