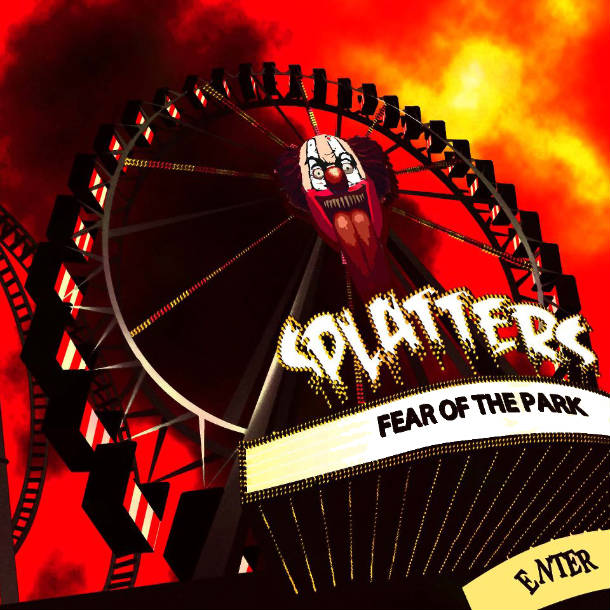 Czy jest możliwe połączenie hard rockowego, glam metalu w stylu Motley Crue i mrocznego, przesiąkniętym klimatem grozy graniem w stylu Danziga? Słuchając debiutanckiego albumu włoskiej formacji Splatters stwierdzam, że tak. "Fear Of the Park" który został wydany w 2012 roku w pełni oddaje charakter tego połączenia dając solidny horror glam metal z elementami rocka, czy też punku.
Za specjalistę takiego grania się nie uznaję i nie będę wnikał czy jest to płyta spełniające w pełnym zakresie wymagania w ramach punkowego/glam metalowego granie. Nie porównam z innym albumami z tej dziedziny, ale mogę wam przedstawić i opisać to co można usłyszeć na "Fear Of The Park". Na pewno potrafi przyciągnąć do tego wydawnictwa kolorystyczna okładka, mroczna tematyka, która w pełni oddaje zamiłowanie członków zespołu do kina grozy klasy b z lat 80 /90. Od strony technicznej album wypada całkiem przyzwoicie i trzeba przyznać, że postarano się o soczyste i mroczne brzmienie. By mówić o glam metalu z elementami hard rocka muszą być odpowiedni, zadziorny, specyficzny wokal, rytmiczne i dynamiczne partie gitarowe. W tej kwestii Splatters spisuje się dobrze, bo te kwestie zostają osiągnięte. Jednakże Drow jako wokalista i gitarzysta żadnych cudów nie wyczynia. Zwykłe umiejętności ot co. Zespół nie gra niczego odkrywczego ani też powala samymi kompozycjami, ale mimo tego zespół gra dość solidnie. Ciekawy klimat został osiągnięty w "Dark Way", zaś pod względem melodyjności wyróżnia się "Lucky 13". Podobać również może się szybszy "Sinner In Heaven" czy "Welcome To Zombieland", ale to wszystko jest przeciętne, albo co najwyżej dobre i nie zada aż tak w pamięci jakby się chciało.
Udało się połączyć stylistykę Montley Crue i Danzig, lecz efekt jest w pełni udany? Niech każdy sam oceni. Ja nie uległem temu grania. Nie porwała mnie muzyka ani też klimat. Za mało ciekawych melodii, dopracowania i hitów, które ułatwiłyby odbiór całości. Pozycja skierowana do fanów wcześniej wspomnianych kapel.
Płytę przesłuchałem dzięki uprzejmości :