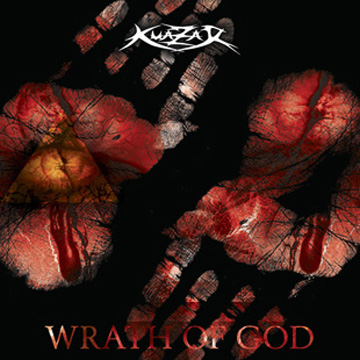 Maiłem do czynienia z wieloma scenami muzycznymi, ale z trash metalem prosto z Paragwaju jeszcze nie i Kuazar i ich debiutancki album "Wrath of God" to mój pierwszy kontakt z tamtejszą sceną i muszę przyznać, że nie spodziewałem się niczego odkrywczego, ani niczego nadzwyczaj dobrego i tutaj nieco mnie zaskoczył ten młody zespół.
Oczywiście nie mają zamiaru dokonywać żadnych rewolucji w thrash metalu, a jedynie wykorzystać to wszystko co już się pojawiło w tej muzyce, czyli wykorzystać nieco patentów charakterystycznych dla Slayer, Testament, Exodus czy Kreator i podać to jeszcze raz słuchaczowi w całkiem atrakcyjnej formie. Kuazar gra thrash metal agresywny, dynamiczny zbudowany w oparciu o dynamiczną sekcją rytmiczną, która stawia na moc i szybkość, a także ostrych, niezbyt wyszukanych riffach José María González, który kładzie nacisk na prostotę, brutalność, nie zapominając o melodyjności co nadaję atrakcyjności całości. Nieodłącznym elementem stylu Kuazar jest wokal José María González, który nasuwa frontmanów Sodom czy Kreator i choć nie wyróżnia się techniką, to charyzmy i drapieżności nie można mu odmówić. Na płycie znajdziemy szybkie, rozpędzone kawałki, które kładą nacisk na agresję i thrash metalowy wydźwięk co znakomicie dowodzą takie utwory jak otwierający "
The Truth Of Reality
", melodyjny
"Alcatraz
" czy rozpędzony "
Hunter And Pray"
. Ponadto znajdziemy bardziej rozbudowane kompozycje jak
"Twenty Days in Hell
" czy urozmaicony "
The World is Destroying It Self
" , gdzie zespół ukazuje również bardziej heavy metalowe wcielenie. "Wrath Of God" zawiera też elementy melodyjnego grania czego dowodem jest heavy metalowy "
My Life Is My Own"
czy szybszy "
The Light Of Damnation
". Materiał jest bardzo równy i dynamiczny, a jedynym spokojniejszym utworem jest trwający ponad minutę
"Inner Prison
".
Paragwaj wciąż pozostaje dla mnie egzotycznym zakątkiem świata jeśli chodzi o muzykę heavy metalową, ale thrash metal w wykonaniu Kauzar jest godny uwagi i poziom muzyczny jaki zaprezentowali na debiucie nie odstaje zbytnio od tego prezentowanego przez światowe kapele tworzące trzon tego gatunku. Dla fanów gatunku pozycja obowiązkowa.
P.s Podziękowania dla Vlada Nowajczyka
za udostępnienie niniejszego materiału :D