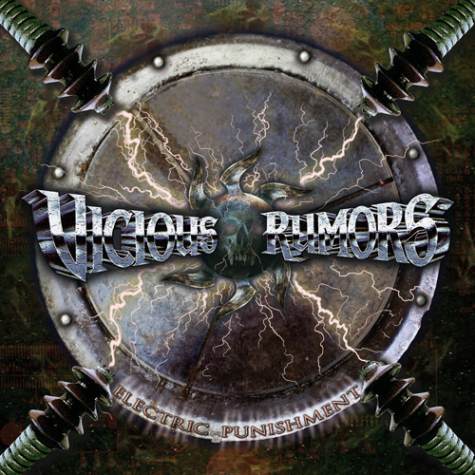 Jednym z tych zespołów, który zawsze dostarczał fanom to co chcieli, jednym z tych zespołów który powstał w latach do dziś funkcjonuje i trzyma wysoki poziom muzyczny niemal od samego początku jest bez wątpienia jedna z legend amerykańskiej sceny metalowej, a mianowicie Vicious Rumors, który został założony w 1979 r z inicjatywy gitarzysty Geoffa Thorpe. Po wydaniu albumu koncertowego "Live You To Death" w 2012 i bardzo dobrze przyjętego "Razorback Killers" , który szybko został okrzyknięty jednym z ich najlepszych albumów, przyszedł w końcu czas na nowy album, na jedenasty w historii zespołu wydawnictwo, czas na "Eletric Punishment".
Ten amerykański zespół prowadzony przez Geoffa zasłynął z tego, że gra agresywny heavy/power metal z elementami thrash metalu i to w amerykańskim stylu nasuwając takie kapele jak choćby Iced Earth, Angel Dust czy Metal Church, jednak w muzyce zespołu można doszukać się wpływów Judas Priest, czy Black Sabbath. Niczego nie zmienia "Eletric Punishment" który podkreśla fakt, że zespół nie zamierza zbaczać z obranej dawno temu ścieżki, a na nowym albumie tylko umacnia swoją pozycję jako zespołu amerykańskiego, który znakomicie oddaje to co z czego słynie tamtejsza scena metalowa, a mianowicie heavy/power metal z elementami thrash metalu. Poprzedni album "Razorback Killers" charakteryzował się mrocznym klimatem, ciężkim, wręcz brutalnym brzmieniem wyjętym z thrash metalowego albumu, ostrymi gitarami, które miały cechy thrash metalu, heavy i power metalu, a wszystko zagrane z pomysłem, agresją, jak i melodyjnością, a wszystko wypełniała dynamiczna sekcja rytmiczna i wyrazisty wokal Briana Allena, który ma manierę nasuwającą Tima Rippera Owensa i te cechy w dalszym ciągu można uświadczyć na nowym albumie, który jest swoistą kontynuacją stylu już zaprezentowanego na "Razorback Killers". Warto jednak wspomnieć, że od roku 2013 w zespole jest nowy gitarzysta, a mianowicie Thasen Rasmussen, który występował w Vicious Rumors w latach 2005 -2007, a znany jest głównie z thrash metalowego Heathen. Odegrał on dość sporą rolę na nowym albumie, to on właśnie nadał thrash metalowego charakteru partią gitarowym, to on nadał ciężkości i agresywności poszczególnym utworom , a wraz z Geoffem wygrywa sporo ciekawych melodii, solówek i jest na czym zawiesić ucho. "Eletric Punishment" to nie tylko dopracowanie i zadbanie o szczegóły w sferze brzmieniowej czy graficznej, ale też kompozytorskiej. Równy, agresywny, a przede wszystkim urozmaicony materiał, to jest to czego należy się spodziewać. Dużą część stanowią utwory agresywne utrzymane w heavy/power metalowej formule z elementami thrash metalu i mrocznym klimatem i właśnie takie utwory jak otwierający "I am The Gun" , energiczny "Black X List" czy "D Block" są jakby wizytówką tego zespołu. Bardziej stonowany, ale dalej w brutalnej oprawie "Eletric Punishment" nasuwa ostatni album Attacker, zaś rozbudowany "Escape ( From Hell)" to znakomita, klimatyczna ballada. Rytmiczny "Thirst For A Kill" czy "Dime store Prophet" pod względem stylistyki, jak i zadziornego motywu przypomina twórczość Judas Priest, czy Cage. Na albumie znalazło się również miejsce dla coveru Kiss, a mianowicie "Strange Ways".
Vicious Rumors to sprawdzona amerykańska marka, która nigdy nie zawodzi i dostarcza fanom to cą chcą, a więc kolejny agresywny, mroczny album w stylistyce heavy/power metalowej z elementami thrash metalu, na którym gościnnie wystąpili Bob Capka, Brad Gillis, czy Mark Mcgee "Eletric Punishment" to kolejny bardzo dobry album w historii zespołu, ale przecież do tego już nas przyzwyczaili.