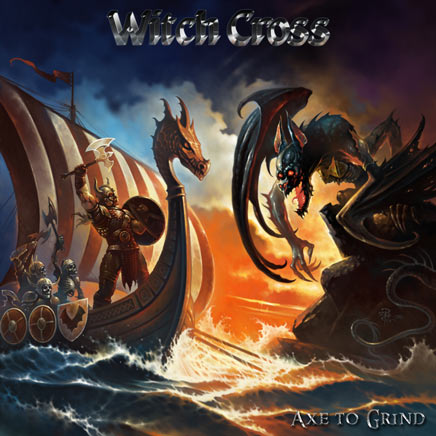 Do łask ostatnio powracają stare kapele heavy metalowe, które działały w latach 80, które nagrywały solidne i godne zapamiętania albumy, dla których los nie był już tak łaskawy. Przykładem tegorocznych takich powrotów jest choćby formacja Satan, Midnight Messiah czy też w końcu Witch Cross. Ta duńska formacja zapisała się w kartach duńskiego heavy metalu, jako energiczna kapela, która w swojej muzyce zawierała elementy power metalu i Nwobhm. Właśnie w takiej postaci zaprezentowali się na debiutanckim "Fit For Fight" z 1984 roku. Jednak na wydaniu tego wydawnictwa się zakończyła się działalność zespołu. Wtedy w roku 2012 została ogłoszona nowina, że zespół wraca do grania i tworzenia. W składzie pozostali gitarzysta Mike Wlad, perkusista Anders Ac Hjort oraz basista Jan Normark. Funkcję wokalisty objął Kevin Moore znany z występów w Graham Oliver Saxon, zaś drugim gitarzystą został Paul Martin. Na koncertach się oczywiście nie skończyło i zespół postanowił uraczyć fanów nowy albumem o tytule "Axe To Grind".
Nieco zmieniony skład duńskiej formacji, wybranie Chris Tsangarides jako producenta i długa przerwa w graniu nie przyćmiła drogi obranej przez zespół na debiutanckim albumie. Mimo upływu lat zespół postanowił dalej kontynuować swoją misję grania energicznego, melodyjnego i przebojowego heavy metalu z elementami power metalu i Nwobhm. Ten ostatni element zostaje podkreślony nie tylko sekcją rytmiczną, czy też tym co wygrywają gitarzyści Martin/ Wlad, którzy stawiają na prostą formę i na zadziorność. Mimo braku wirtuozerskich popisów ten element tutaj wypada naprawdę dobrze, co wynika z doświadczenia muzyków i z chęci oddania najlepiej lat 80. Urozmaicenie, duża dawka energii i dużo atrakcyjnych melodii to cechy, które nadają nowemu albumowi uroku i czynią go niezłym kąskiem dla fanów heavy metalu lat 80. Nawiązanie do Nwobhm można dostrzec nie tylko w kwestiach wcześniej wspomnianych, ale również w manierze wokalnej Kevina, który przypomina styl i technikę Biffa Byfforda. To wszystko przyczynia się do tego, że materiał jest atrakcyjny dla potencjalnego słuchacza i jeszcze łatwiejszy w odbiorze. Mówiąc o zawartości, trzeba mieć na uwadze, że nie ma słabszych momentów czy też wypełniaczy. Choć ciężki, stonowany
"Part Of The Machine"
czy nieco hard rockowy
"Awakening Pandors Box
" nie należą do najlepszych utworów na płycie. Jeżeli jest się fanem heavy metalu lat 80, twórczości Saxon, czy Judas Priest to nie można pominąć ostrego "
Demon in The Mirror
" , dynamicznego
"Ride With The Wind"
czy też przesiąkniętego Judas Priest "
Metal Nation
". Czasy kiedy Iron Maiden tworzyło ciekawe i melodyjne instrumentalne kompozycje znakomicie przypomina "
Axe To grind
". Epicki wydźwięk to nie jedyna zaleta
"Bird Of Prey"
bo co dla niektórych będzie również zaletą wystąpienie Marty Gabriel z Crystal Viper. Do grona najlepszych kompozycji na płycie trzeba też bez wątpienia zaliczyć "
Lost Without Warning
".
Wciąż debiut ma w sobie magie i wciąż zachwyca przebojowością i energią. Nowy album nie przebił "Fit For Fight", ale z pewnością wstydu nie przynosi, ba godnie kontynuuje to co zespół za prezentował na tamtym wydawnictwie. Kto lubi heavy metal lat 80, dużo dawką energii i atrakcyjne melodie czy też granie w stylu Judas Priest czy Saxon ten powinien czym prędzej odpalić nowy album duńskiej formacji, która powraca po kilkunastu latach nie bytu.
Ocena: 7.5/10