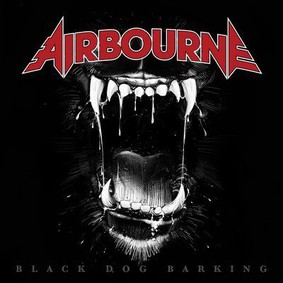 "
No Guts No Glory" to wypadek przy prace, świetnie zapowiadającego się
Airbourne
. Ta młoda australijska formacja, która została założona w 2003 roku gra hard rock z elementami rock'n rolla i heavy metalu i to z dużymi wpływami Ac/DC. Formacja ta szybko została określana mianem młodszej wersji Ac/Dc i trudno nie nazwać ich tak zwłaszcza kiedy w muzyce tego zespołu jest pełno patentów przerysowanych z Ac/Dc i to było słychać na debiutanckim "Running Wild" czy znacznie słabszym "No Guts No Glory". Niczego innego nie dostajemy na nowym albumie zatytułowanym
"Black Dog Barking"
, z tym, że zespół wraca na właściwy tor grania melodyjnego,zadziornego, szalonego hard rocka w stylu Ac/Dc. Ci którzy polubili zespół za taki styl na debiucie mogę być spokojni, bo zespół wraca właśnie do takiego grania.
W przypadku debiutu atutem było zaskoczenie, masa przebojów, energia i magia. To wszystko gdzieś troszkę uleciało w "No Guts no glory", który był nieco ugrzeczniony, nieco jakby zagrany na siłę, bez większego polotu. Pewnie nie ja jeden się zastanawiałem, czy zespół jest w stanie nagrać coś na miarę "Running Wild" i "Black Dog Barking" jest tego dowodem, że można. Airbourne znakomicie ciągnie to na czym skończył Ac/Dc z tym, że ta młoda formacja ma w sobie więcej energii i ciekawych pomysłów. Airbourne oddaje styl Ac/Dc jak mało kto i zasługą tego jest lider Joel O' Keeffe, który głosem przypomina Bona Scotta z pierwszych płyt. Potrafi rozgrzać słuchacza tym swoim energicznym, zadziornym wokalem i nadaje utworom hard rockowego szaleństwa. "Running Wild" zapisał się w pamięci nie tylko jako płyta przebojowa, ale również jako płyta bardzo gitarowa, pełna ciekawych melodii, riffów i solówek w stylu Angusa Younga. No guts Glory tego elementu brakowało jakoś, ale nowy krążek w pełni to wynagradza i to z nawiązką. Popisy Joela O ' Keeffe'a i Davida Rodsa są tutaj po prostu świetne i każdy fan Ac/Dc czy też hard rocka, przy pomni sobie najlepsze czasy Ac/Dc. Energiczny rock;n roll jaki Ac/Dc wygrywał na początku, który serwował w dużych ilościach Airbourne na debiucie i tutaj sieje zniszczenie. Już otwieracz
"Ready To Roll
"
jest tego znakomitym przykładem. Stonowany, nieco, ale zadziorny "
Animalize"
przenosi nas do czasów "Back In Black".
"No One Fits Me (Better Than you)"
z kolei swoją przebojowością i wydźwiękiem przypomina album "Fly On The Wall".Podobne skojarzenia można mieć w przypadku cięższego "
Back In The Gam
e". Perełką i prawdziwymi killerami tutaj są bez wątpienia żywiołowy
"Firepower
" który nasuwa na myśl "Ballbreaker" czy "The Razors Edge" jak i klimatyczny "
Live It Up
" który nasuwa "For Those About To Rock" . Kto lubi okres "Welcome To Hell" polubi przebój w postaci
"Woman Like That
", który brzmi jak kawałek wyjęty z tego wydawnictwa. Najlepszy utwór ciężko wybrać to fakt, ale moim faworytem został dość szybki, energiczny "
Hungry
" który świetnie oddaje to że zespół powrócił do tego co grał na debiucie. Całość zamyka energiczny "Black Dog Barking", który idealnie nada się by rozgrzać fanów podczas koncertu i te ponad 35 minut szybko przelatuje, ale w głowie sporo zostaje.
Rok 2013 to rok udany dla fanów muzyki w stylu Ac/Dc. Wyszedł nowy album Sin City, Krokus, a teraz doszedł nowy album Airbourne, który w moim odczuciu poradził sobie z konkurencją, w tym z znakomitym albumem Krokus, który też w tym roku zaliczyć należy do grona najlepszych hard rockowych wydawnictw. Ci którzy polubili debiut "Running Wild", którzy polubili ten zespół za energię, przebojowość i zapadające w pamięci riffy czy refreny mogą im wybaczyć słabszy "No Guts Glory" i brać się za nowy. Miło słyszeć, że Airbourne powrócił i to mocnym uderzeniem, którego nie powstydziłby się sam Ac/Dc.
Ocena: 10/10