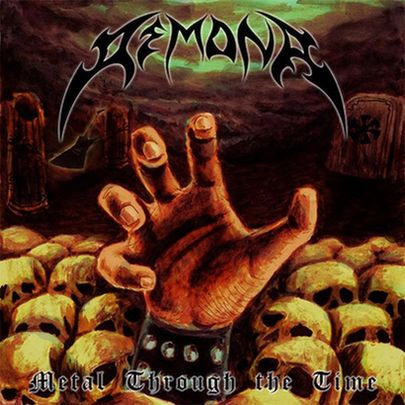 Kiedy w końcu udało mi się znaleźć naprawdę znakomity speed metalowy zespół prosto z Chile, z szybką i dynamiczną sekcją rytmiczną, ostrymi partiami gitarowymi, przesiąkniętymi latami 80, z cechami wczesnego okresu thrash metalu, czy też NWOBHM, to jednak ten idealny stan instrumentalny jaki prezentuje zespół o nazwie Demona burzy jej liderka, a mianowicie Tanza Godoy, która właściwie jest założycielką zespołu i to ona od 2007 w początkowym okresie stanowiła zespół Demona, potem projekt się przerodził w zespół i tak po 5 latach udało się wydać debiutancki album "Metal Throught The Time", który jest znakomity pod względem instrumentalnie, a niestety za sprawą specyficznego, mało metalowego wokalu Tanzy, sporo traci na atrakcyjności.
Co może się naprawdę podobać w tym debiutanckim albumie, to klimat lat 80, znakomite oddanie tamtych lat za sprawą szorstkiego, nieco przybrudzonego brzmienia, które pozbawione jest wszelkich nowoczesnych technologii, a także za sprawą instrumentalistów, którzy stworzyli całe tło pod wokal. To właśnie cała warstwa instrumentalna jest tutaj główną atrakcją i godna podziwu. Jest oczywiście stylistyka heavy/speed metalu i to w najlepszym wydaniu, z rozpędzoną sekcją rytmiczną, która brzmi mocarnie i zarazem klimatycznie. Wszystko brzmi naturalnie, tak old scholoowo, zwłaszcza gitary, które są zadziorne, pełne finezji i czasami riffy jak i solówki wkraczają w shredowy świat, co tylko podkreśla jak partie gitarowe są tutaj atrakcyjne. Wszystko byłoby pięknie gdyby nie to, że wokal Tanzy jest po prostu okropny, nie ma w tym zadziorności, techniki, właściwie nic nie mam i potrafi on nieco drażnić i utrudnić odbiór całości. Materiał w przypadku tego wydawnictwa jest utrzymany w jednym stylu, tak więc można zarzucić granie na jedno kopytu i trudno tutaj wyróżnić cokolwiek jeżeli jest utrzymane w jednej stylizacji, jeżeli jest utrzymane na równym poziomie. Godny uwagi jest "Introduction", który pokazuje, że instrumentalnie zespół naprawdę niszczy i takiego speed metalu w stylu lat 80 nigdy za wiele. "Pay for your Sins" już pokazuje umiejętności wokalne Tanzy, która stara się być zadziorna, agresywna, a wyszło jak wyszło, na szczęście muzycznie kawałek jest na pograniczu speed/ thrash metalu co może się podobać. Ciekawym motywem wyróżnia się z pewnością" Earthquake" , zaś "Solo Existe el Metal" to zawarcie speed metalowego stylu w 2 minutach. Galopowanie, ogromne wpływy NWOBHM i Iron Maiden to cechy, które wyróżniają "Nightmare". Najdłuższym utworem na płycie i równie wartym uwagi jest "Metal through the Time" w którym gościnnie zagrało paru gości, a mianowicie znanych z takich kapel jak Sabbat, czy Warrant. Kompozycji słabych nie ma, ale szkoda że wokal wszystko psuje.
Dawno nie miałem do czynienia z tak dobrym speed metalem w stylu lat 80, gdzie jest nacisk na klimat, dynamikę, melodyjność, ale jednocześnie dawno nie słyszałem tak tragicznego wokalu jak wokal Tanzy i to on szybko zweryfikował poziom i atrakcyjność debiutanckiego albumu. Mimo dobrej warstwy instrumentalnej, dobrej pracy gitar muszę przyznać, że album jest ciężki w odbiorze i sporo traci na atrakcyjności. Szkoda.
P.s Recenzja przeznaczona dla magazynu HMP