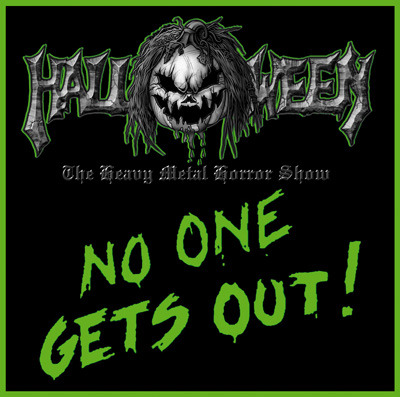 Jednym z ważniejszych albumów dla amerykańskiego zespołu heavy metalowego Halloween bez wątpienia jest "No One gets Out", który został wydany w 1991 roku. Był to okres ważny dla zespołu bo w 1990 roku pojawiło się w składzie parę nowych twarzy, a mianowicie perkusista Billy Adams, gitarzysta Tim Wright oraz gitarzysta Donny Allen. Sławę albumowi przyniósł z pewnością utwór, który szybko stał się jednym z wielu hitów zespołu, a mianowicie "Kings". Halloween w tym roku obchodzi 30 letnią rocznicę działalności i jest to dobra okazja, żeby wznowić reedycję tego albumu, bo w końcu jest to klasyka tego zespołu, jak również amerykańskiego heavy metalu.
Różnica między obecną reedycją, a starszym wydaniem jest taka, że nowe wydanie "No One Gets Out" zostało obdarzone mocnym, bardziej soczystym klasy, które nadało albumowi świeżości, jeszcze mocniejszego wydźwięku. Niezmienione zostały kompozycje, a także sam styl zespołu, który jest takim rasowym heavy metalem amerykańskim z mrocznym klimatem i elementami thrash metalu. Muzycznie Halloween można postawić obok takich kapel jak W.A.S.P, Witch, czy Savatage. "No one Gets Out" ukształtował już na dobre styl grupy, który opierał się na mocnej i urozmaiconej sekcji rytmicznej, ostrych, ciętych riffach, niezbyt wyszukanych melodiach, czy prostych solówkach, a wszystko podporządkowane pod mroczny, zadziorny wokal Briana Thomasa, który potrafi przyprawić o dreszcze. Halloween to kapela, która po dzień dzisiejszy znana jest z mrocznego, tajemniczego klimatu grozy i na "No One Gets Out" wyraźnie to słychać, zwłaszcza w takich kompozycjach jak "
Sanity Danger
" czyli rozbudowanemu kawałku, z mrocznym klimatem i wpływami Black Sabbath czy "
Miss Earies Child",
który jest znakomitą , klimatyczną i pełną różnych smaczków balladą. Thrash metal dość wyraźnie wybrzmiewa z takich kawałków jak
"No One Gets Out
" czy "
The Things That Creeps
" będący kolejnym hitem zespołu, ale numer jeden na albumie jest oczywiście melodyjny "
Kings
". Warto także podkreślić, że album zawiera trzy covery, a mianowicie "
Craw To The Alter
" pochodzący z repertuaru Erabus, czyli zespołu w którym wcześniej grał Tim Wright, a także utwór "
Halloween
" kapeli Seduce, a także "
Detroit Rock City
" zespołu Kiss.
Na 30 rocznicę można było spodziewać się nowego albumu, czy też jakiejś komplikacji, w zamian dostaliśmy reedycję jednego z najważniejszych albumów amerykańskiej formacji Halloween, co z pewnością pozwoli poznać stary album na nowo, a ci którzy nie mieli styczności z starszymi wydawnictwami, przekonają się że już w latach 90 grał heavy metal na wysokim poziomie.
Ocena:

8/10
P.s Recenzja przeznaczona dla magazynu HMP