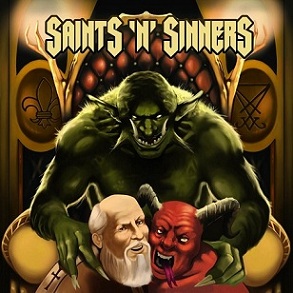 Jednym z tych egzotycznych rejonów, gdzie heavy/power metal nie należy do popularnych gatunków jest z pewnością Turcja. Właściwie takim najbardziej znanym mi zespołem z tamtego rejonu jest PENTAGRAM znany również jako MEZARKABUL i jest to zespół, który zdobył sławę także poza granicami Turcji. Losy tureckiej sceny metalowej mogą niebawem zostać nieco odmienione, ponieważ na podbój Europy i innych krajów wyruszył debiutujący w tym roku SAINTS N' SINNERS, który chce wszystkim udowodnić, że tam też może narodzić się kapela grająca tą odmianę metalu i to na całkiem wysokim poziomie.
Ten założony w 2002 roku przez gitarzystę Deniza Tuncera zespół odbył długą drogę, aby nagrać w końcu debiutancki album, który został nazwany po prostu "Saints N' Sinners" i jest to album, który mimo kiepskiej promocji przyciąga uwagę. Znakomita, kolorystyczna okładka, sygnowanie albumu, że jest to power metal i że pochodzi z Turcji, też potrafią zaintrygować. Tak też było ze mną i po prostu ciekawość zwyciężyła i wiecie co? Niespodziewanie otrzymałem bardzo dobry album z muzyką, która rzeczywiście jest utrzymana w stylistyce power metalowej, jednak poza tym nurtem uświadczymy tutaj elementy heavy metalu, czy hard rocka i właśnie owa mieszanka stylistyczna jest jedną z takich głównych atrakcji i takim elementem, który chroni przed nudzeniem się, bo turecki zespół niczego nowego nie odkrywa i jest to raczej podążaniem za innymi, jednak mieszanie różnych gatunków muzycznych i dobre wykonanie wyróżnia już ten zespół w przedbiegach. Jak przystało na płytę na bardzo dobrym poziomie mamy dopieszczone, soczyste, takie z górnej półki brzmienie, mamy też ciekawie skonstruowane kompozycje, które zbudowane są na prostych, chwytliwych riffach, które potrafią zapewnić niezłą rozrywkę. Wszystko łatwo wpada w ucho i zapada w pamięci, co już jest małym sukcesem. Pewien poziom muzyczny tutaj zapewnili sami muzycy i ich umiejętności. Można pochwalić sekcję rytmiczną za zapewnienie dynamiki, mocy utworom, duetowi gitarowe Tuncer/Dogruoz za zgranie, rytmiczność, lekkość przechodzenia między melodiami, motywami, za zróżnicowanie i sporą dawkę energii oraz wokalistę Mahmeta Kaya za profesjonalizm, bo jego maniera będąca krzyżówką Kiske/ Dickinson/Papathanasio jest tutaj nie lada atrakcją. Właśnie wokal jest tutaj najbardziej wyróżniającym się elementem i takim ciągnącym wszystko.
Wokal wokalem, ale kompozycje właściwie bronią się tutaj same i każdy z nich potrafi czymś zaskoczyć, zachwycić słuchacza. "Renegade Lawmakers" to mocny, energiczny otwieracz, z rozpędzoną sekcją rytmiczną, melodyjnością godną przebojów IRON MAIDEN, zaś sam kawałek utrzymany w stylistyce BLOODBOUND czy FIREWIND. W innej tonacji utrzymany jest "Max Schreck" , gdzie pojawiają się elementy bardziej heavy metalowe, hard rockowe. W "One For The road" słychać w pływy DEEP PURPLE czy też RAINBOW i brzmi to o wiele lepiej niż to co ostatnio prezentuje Tobias Sammet ze swoimi zespołami. W dalszej kolejności pojawia się "Lost Horizons" czyli rozbudowana, ciepła i finezyjna ballada. Dużo EDGUY i twórczości Tobiasa Sammeta słychać w przebojowym, również nieco hard rockowym "Doomsday Dreaming", energicznym "Snake Eyes" czy melodyjnym "Saints N' Sinners". Stary, słodki EDGUY w power metalowym wydaniu wybrzmiewa z 6 minutowego "One Glorious Night", który jest bez wątpienia najszybszym kawałkiem na płycie. Największym przebojem na płycie jest chwytliwy "Seven Yers in Hell", zaś "Psycho Maniac" to bardzo udany hard rockowy kawałek z wpływami DEEP PURPLE. Każdy utwór to prawdziwa frajda dla uszu i ducha.
Bardzo udany debiut ze strony tureckiego zespołu i w końcu ktoś warty uwagi, z potencjałem z tamtego rejonu. Udana mieszanka heavy/power metalu i hard rocka, która pozwala myśleć pozytywnie o przyszłości tego zespołu. Gorąco polecam!