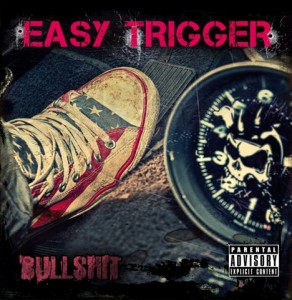 Jak nagrać hard rockowy album, który zadowoli fanów starych dźwięków, a także tych fanów, którzy cenią sobie nowoczesne podejście? Jak nagrać album, który połączy elementy hard rocka lat 80, sleez metalu, czy też troszkę nu metalu lat 90. Jak nagrać krążek znakomicie odda zasadę "sex,drugs and rock'n roll"? Zadania wydaje się o tyle trudne, zwłaszcza jeśli chcemy aby nie brakowało ognia, zadziorności, chwytliwości, przebojów, by ta muzyka porwała i zapadła w pamięci. Sposób by zawrzeć wszystkie cechy w jednym albumie udało się włoskiemu zespołowi EASY TRIGGER, który wydał w 2012 roku swój debiutancki album "Bullshit".
Zaczynali w 2009 roku jako kapela grająca covery a z czasem , kiedy zaszły zmiany w zespole rozpoczęły się prace nad własnym materiałem. W 2011 r ukazał się mini album a rok później już pełnometrażowy album i to jest wydarzenie o którym głośno dyskutować. Co takiego zrobił niby zespół? Cóż znakomicie połączył nowe brzmienie, różne patenty współczesne, które można przypisać HARDCORE SUPERSTAR z patentami z lat 80 spod znaku MOTLEY CRUE czy GUNSES ROSES. Zespół wyróżnia się na tle stylem i to już słychać od pierwszych dźwięków. Jest radość, pomysłowość, energia, młodzieńcza agresja i zapał, a także dopracowanie i ogromny potencjał w samych muzykach co sprawia, że EASY TRIGGER to prawdziwe odkrycie w dziedzinie muzyka hard rockowej. Dynamika, proste i chwytliwe melodie, energiczna sekcja rytmiczna, porywające refreny i zadziorny, wyrazisty wokal Frenkiego to właśnie styl tego włoskiego zespołu. Słaba okładka to jedyna wada jaka nasuwa się na pierwszy rzut, ale jakaś banalna i nie mająca większego wpływu na ostateczny efekt. Album zachwyca pod względem technicznym z naciskiem na nowoczesne i dopieszczone brzmienie, a także kompozytorskim, gdzie muzycy dają upust swojemu geniuszowi i pomysłowości.
Materiał składa się z 12 utworów, które zabiorą nas w hard rockową podróż której nigdy nie zapomnimy. Pikanterii dodają tutaj sami muzycy, którzy wyróżniają się na tle innych. Wspomniałem o wokaliście, ale trzeba pamiętać o technicznej i dynamicznej sekcji rytmicznej, czy też i ducie gitarowym Caste/Fedry, który zasypie was chwytliwy melodiami, ostrymi i mocnymi motywami, które nie należą do takich ulatniających się. Jest technika, radość, lekkość, zadziorność i urozmaicenie, tak więc najbardziej wybredni słuchacze powinni być zadowoleni. "A Good Night To Kill" to krótkie intro, które po krótkim czasie zostaje wyparte przez "Hatesphere", który podkreśla wszystkie cechy o których wspomniałem wcześniej, zwłaszcza owa przebojowość, lekkość, zadziorność, energiczność i pomysłowość. "Sex, Sex, Sex" no bo jak można tutaj mówić o dragach i rock'n rollu bez seksu i kto lubi szybkie u melodyjne utwory będzie zadowolony. Co kawałek to przebój, ale są urozmaicone i już taki "Apologise" jest nieco wolniejszy, bardziej rockowy, z ciekawym wokalem Frenkiego w zwrotkach. Ciekawa melodia i radość sprawiają, że "Rocket Girl" to kolejna przebojowa petarda, która rozgrzeje każdą sztywną publikę. Znalazło się też miejsce i dla ballady czyli "Smokers Die Younger", która ma w sobie to coś, jest urokliwa i wyróżnia się na tle innych miernych, nijakich ballad rockowych jakie słyszałem ostatnim czasy. Po 3 minutach odprężenia zespół szybko wraca do dynamicznego grania i kto szuka dobrej rozrywki niech szybko zapuści promujący album "911" . Nieco lekkości, swobodnego grania z romantycznym i chwytliwym refrenem uświadczymy w "The Dreams" i zespół ani myśli spuścić z tonu czy z przebojowości. W "Bullshit" wokalnie Frediego wspiera Cresh (SINCIRCUS), zaś utwory "Easy Trigger" czy dynamiczny "Route 66" potwierdzają, że zespół jest specem od tworzenia przebojów.
Kopalnia przebojów, a wszystko podane w ciekawej hard rockowej formie tak można by opisać debiut włoskiej formacji, która jest głodna sukcesu. Póki co jest to jeden z najlepszych młodych zespołów grających hard rocka i czekam na kolejne wydanie tego zespołu.
Ocena:
10/10
Płytę przesłuchałem dzięki uprzejmości :