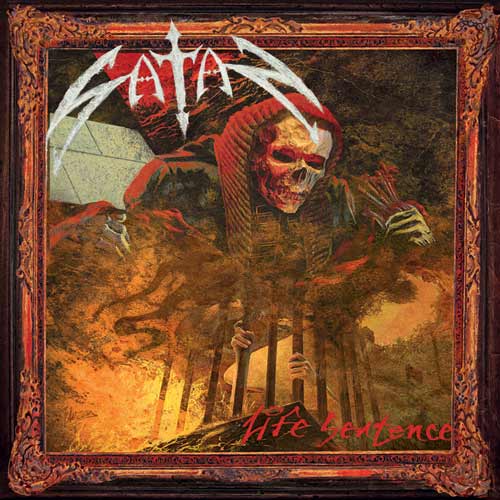 W latach 80 w Wielkiej Brytanii działał zespół o nazwie Satan i był jednym z przedstawicieli modnego w tamtych latach NWOBHM. Zespół założony 1979 roku swój debiutancki album wydał w 1983 roku, jednak potem przekształcił się w Blind Fury wydając jedynie "Out of The Reach" . Potem jednak zespół powrócił z nowym albumem w 1987 roku jako Satan i tak potem o kapeli słuch zaginął. Jednakże powroty zza światów są modne ostatnim czasy to nic dziwnego że po raz drugi w 2011 roku reaktywował się brytyjski Satan i w roku pojawił się nowy album "Life Sentence" , który jest pierwszym albumem po 16 letniej przerwie zespołu..
Duch kapeli grającej w latach 80, duch NWOBHM jak najbardziej został. Fani heavy metalu lat 80 czy zespołów grających NWOBHM powinni być zachwyceni, bo Satan mimo powrotu, mimo odrodzenia w czasach, gdzie jest agresja, dynamika i czasami kombinowanie zostali sobą. Tak więc nikogo nie powinno zdziwić, że zespół dalej gra swoje, dalej mamy specyficzny wokal Briana Rossa, który śpiewał na debiutanckim albumie, a także prowadził inny wielki zespół, a mianowicie Blitzkrieg. Może nie ma agresywnej maniery, ale techniki czy klimatu nie można mu odmówić. Jego wokal znakomicie współgra z klimatycznymi, mroczniejszymi utworami jak
"Another Universe",
który jest najdłuższym utworem na płycie. Co przykuwa uwagę niemal od początku to nieco przybrudzone brzmienie, takie brytyjskie, użyłbym słowa bardziej rockowe aniżeli metalowe. Pod względem instrumentalnym album zasługuje z pewnością na wyróżnienie, bo zarówno dynamiczna, urozmaicona, zaskakująca sekcja rytmiczna jak i partie gitarowe Ramseya i Tippinsa, które cechują się naturalnością, lekkością, finezją, ale ponadto jest szaleństwo, melodyjność i kolesie wygrywają naprawdę energiczne i godne uwagi riffy, co zresztą już słychać w otwierającym
"Time To Die
", który oczywiście oddaje NWOBHM, ale jest tu również nieco rocka, czy metalu. Nieco psychodelicznego rocka można uchwycić w rytmicznym
"
Twenty Twenty Five
", jednak zespół nie trzyma się kurczowo jednej stylizacji bo pojawia się szybsze granie w "
Siege Mentality
" czy "
Testimony
" z ciekawym głównym motywem gitarowym. Nie uświadczymy tutaj wypełniaczy.
Brakuje wam NWOBHM w tym roku, brakuje wam brytyjskich kapel grających na wysokim poziomie? A może szukacie kapeli, która znakomicie oddaje klimat heavy metalu 80? W obu kwestiach Satan jest dobrym wyborem, bo ich nowy album "Life Sentence" to dopracowany krążek z brytyjską tradycją.
Ocena: 7.5/10