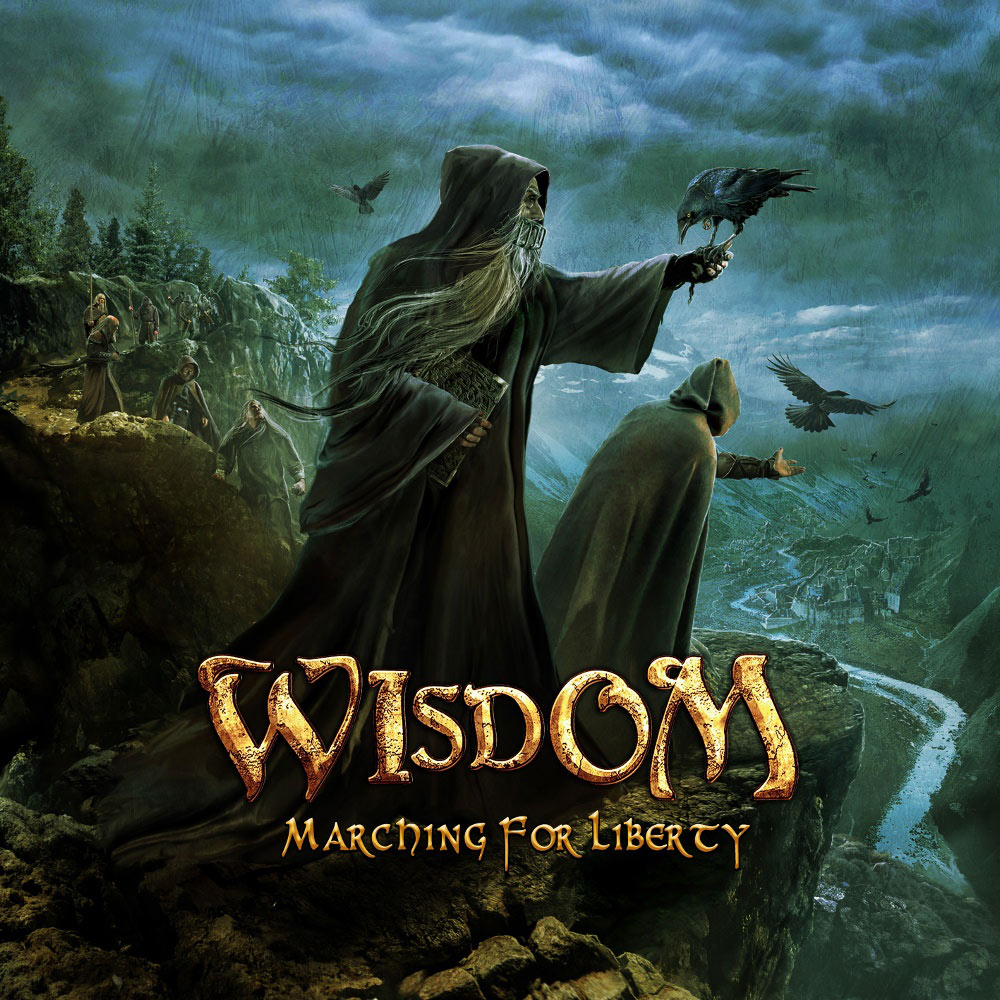 Uwaga węgierski Wisdom wraca z nowym albumem, wraca silniejszy niż kiedykolwiek. "Marching For Liberty" to wydawnictwo które każdy fan europejskiego power metalu powinien znać. Epicki patenty których nie powstydziłby się sam Rhapsody, bojowy chórki nasuwające Hammerfall, przebojowość godna Gamma Ray czy Helloween. Nie brakuje też melodyjności Edguy, czy też patentów które nasuwają Manowar, a nawet Running Wild. Mam waszą uwagę? Przejdźmy zatem dalej....
Poprzedni album tej węgierskiej formacji zatytułowany "Judas" zrobił furorę i podbił serca słuchaczy heavy/power metal. Ja nie do końca czułem zaspokojenie, bowiem czegoś mi brakowało. Lepszej oprawy? Bardziej urozmaiconego materiału, który będzie poparty kompozycjami nie na jedno lato? Były to jedne z wielu czynników. Mimo tego czułem że ta młoda kapela ma potencjał, bowiem "Judas" był bardzo dobrym albumem i kapela potrzebowała tylko kilku popraw. "Marching For Liberty" jest bardziej dojrzałym i urozmaiconym krążkiem. Co ciekawe zespół bardzo się rozwinął i dostarczył w końcu przebojów o których będzie można rozmawiać latami. Epicki, teatralne intro w postaci "World Of The Free" już daje przedsmak tego wielkiego wydarzenia i zdradza że ten album będzie o wiele ciekawszy niż poprzedni. Miłym dodatkiem są tutaj chórki i wstawki orkiestrowe. Całość dalej zbudowana jest na patentach heavy/power metalowych i ta forma tutaj dominuje. Nikogo więc nie powinno zdziwić pojawienie się radosnego "Dust Of the Sun", który brzmi jak zagubiona kompozycja Edguy czy też Helloween. Znacznie ciekawsze partie wygrywają Bodor i Kovacs. Dużo energii, melodyjności, zadziorności i pomysłowości. "War Of Angels" ma coś z Nightwish, "Failure of Nature" z Hammerfall, a epicki "Have No Fear" z Manowar i Running Wild. Tak więc widać zróżnicowanie stylistyczne i to że nie ma mowy o graniu na jedno kopyto. Sekcja rytmiczna tutaj jest jakby żywsza, bardziej zaskakująca i wypada znakomicie w takich petardach jak choćby "The Martyr". Dowód na istnienie tutaj przebojów? Dobrze nie posłuży tutaj "Take Me To Neverland", który również pokazuje jak dobrze spisuje wokalista Gabor. To dzięki niemu płyta jest bardzo energiczna i power metalowa.
Płyta zawiera wszystko czego dusza zabraknie, a nawet więcej, a wszystko to znajdziemy właśnie na "Marching For Liberty". Prawdziwy rasowy, power metalowy album, który każdy fan tego gatunku powinien usłyszeć, bo jest to czołówka roku 2013 w kategorii power metal. Tak trzymać Wisdom!
Ocena: 8.5/10