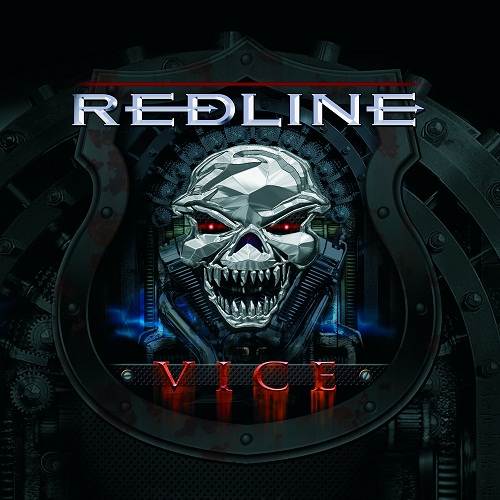 Hard rock wymieszany z heavy metalem, przesiąknięty muzyką JUDAS PRIEST, WHITESNAKE, UFO czy też Y&T tak można by w skrócie określi styl brytyjskiego zespołu o nazwie REDLINE, który po 2006 roku wydawał sporo dem, zespół który po jakimś czasie zmienił wokalistę na Kez Taylora i teraz w 2012 roku wydał swój pierwszy album o nazwie "Vice". Jest to album, który nie wyróżnia się na tle innych, cechuje się wtórnością, przeciętnością, oklepanymi motywami, ale jednocześnie dobry graniem z zachowaniem mocnych riffów, rytmiczności, dynamiki. Album brzmi jak wiele innych wydawnictw, mało w tym oryginalności, świeżości, jednak solidne brzmienie, dobre wykonanie i nawet przystępne dla słuchacza pomysły sprawiają, że album słucha się nawet przyjemnie, bez większego zażenowania. Słuchając albumu można dojść do wniosku, że bez wątpienia mocnym ogniwem jest tutaj wokalista Kez, który przypomina mi manierę Ralfa Sheepersa z PRIMAL FEAR, momentami słychać też coś z wokali takich kapel jak SCANNERS czy też DREAM EVIL. Kez śpiewa zadziorne, ale również bardzo energiczne i sprawia że kompozycje stają się bardziej drapieżne. A co zresztą kapeli? No cóż śmiało można stwierdzić, że grać potrafią i robią to na dobrym poziomie, lecz wytknąć wady tez nie jest trudno. W sferze gitarowej doskwiera nieco rutyna, wtórność, zaś sekcja rytmiczna też momentami jest monotonna.
Jednak to co się liczy to nie dobre, hard rockowe brzmienie, dobre umiejętności muzyków, lecz umiejętność stworzenia dobrych kompozycji. Z tym zespół nie ma problemu bo potrafi wykreować solidne kompozycje o silnych motywach, lecz nie są to kompozycje, które przetrwają próbę czasu i nikt o nich raczej nie będzie pamiętał za kilka miesięcy. Jednak słuchanie energicznego, przesiąkniętego JUDAS PRIEST "Battle Cry", metalowego hymnu "King Of The Mountain" gdzie krzyżują się style takich kapel jak DIO, PRIMAL FEAR, czy też JUDAS PRIEST, rozpędzonego "No Limits" gdzie pojawiają się elementy power metalu i hard rocka, przebojowego "Twistin' The Knife" z killerskim motywem, rytmicznego "High Price to Pay" przesiąkniętego stylem WHITESNAKE, komercyjnego "Edge Of Falling", czy też energicznego, zadziornego i dynamicznego "We Came To Rock" jest bardzo przyjemne i sprawia że czas leci naprawdę szybko. Kompozycje są dopracowane, przemyślane i dobrze wykonane, a słuchanie ich jest bardzo przyjemne, lecz czy będą wstanie przetrwać próbę czasu? Wątpię bo takiego grania jest pełno, lecz dobre granie, energia jaka emanuje z kompozycji sprawia, że na pewno warto wrócić do tego albumu za jakiś czas.
"Vice" to album wtórny, może i przewidywalny, może ma oklepane motywy, ale jest to solidne wydawnictwo, dopracowane i przemyślane pod względem kompozycji. Nie ma mowy o nudzeniu się i narzekaniu na brak dobrych melodii, mocnych riffów, rytmicznych solówek i zadziornego wokalu. Dobry star młodego zespołu z Wielkiej Brytanii i czekam na następne wydawnictwa.