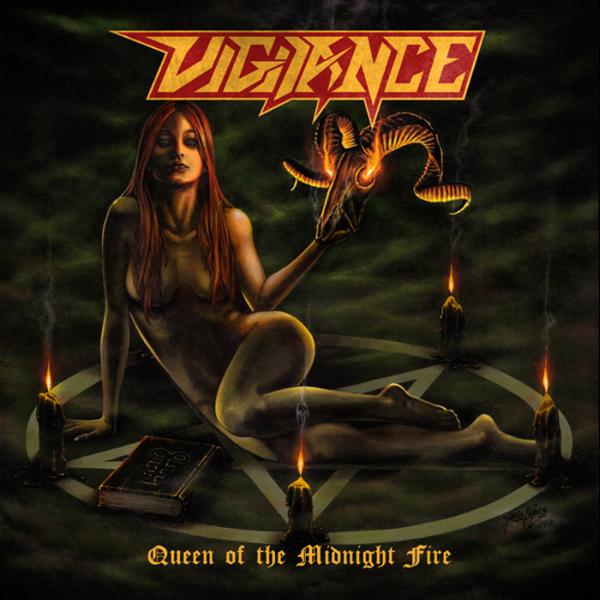 Co raz więcej pojawia się kapel pokroju Enforcer, White Wizzard, czy Striker. Głównie gdy się spojrzy na terytorium to pojawia się Kanada, Stany Zjednoczone czy Szwecja. Skoro zachód tak dobrze radzi sobie w heavy metalu w stylu lat 80 to czemu nie ma spróbować swoich sił kapela ze wschodu? Vigilance to jakby słowacki odpowiednik Enforcer, który również gra heavy/ speed metal. Jednak słowacki band ma swój pomysł na granie i stara się przenieść słuchacza do mrocznego świata, przesiąkniętego okultyzmem i mrokiem jak na pierwszych płytach Mercyful Fate. Na debiutanckiej płycie "Queen of The Midnight Fire" słychać znacznie więcej.
Przede wszystkim słychać fascynację zespołu rockiem lat spod znaku Deep Purple, wczesnym Black Sabbath, a także zespołami lat 80 spod znaku Iron Maiden czy Angel Witch. Wiele elementów znanych i tych oklepanych słychać w muzyce Vigilance, jednak mimo to kapela odnajduje się na rynku. Konkurencja jest silna to fakt, ale słowiański band ma Jokoba, który wokalnie momentami przypomina Kinga Diamonda. Ma specyficzną manierę i potrafi nadać kompozycjom mrocznego wymiaru, co ma swoje plusy. Jednak trzeba pamiętać, że jest to młody zespół i nie wszystko jeszcze wychodzi tak jak powinno. Pojawiają się niedociągnięcia w partiach gitarowych wygrywanych przez duet Adam/Rejec. Oczywiście jest melodyjność, urozmaiceni i klimat lat 80, jednak brakuje nieco przebojowości i techniki. Na pewno dobrze wypada utrzymana w brytyjskim stylu sekcja rytmiczna, która znakomicie wybrzmiewa w takim mroczniejszym
"Behind the Cellar Door
". Właściwie co jest mocną stroną tego wydawnictwa to materiał, który wywiera wpływ na słuchacza. Jak tu nie dać się porwać speed metalowym petardą jak
"Speedwave
" czy "
Ritual Of death"
? Poza szybkością, materiał jest nacechowany przebojowością czy melodyjnością, które znakomicie znajduje swoje odbicie w "
Under Sulphurus Skies
" czy "
Four Crowns Of Hell"
. Inną wyraźną cechą jest urozmaicenie, które sprawia że każdy kawałek potrafi zaskoczyć nawet jeśli jest to tylko krótki instrumentalny utwór jak "
Poetry and The Gods"
.
Rynek podbijają ostatnio kapele z Kanady, czy Szwecji, które style nawiązują do lat 80. Skoro im się udało odnieś sukces, to czemu nie może tego zrobić kapela ze wschodu? Debiut Vegilance jak najbardziej na poziomie światowym i rodzi się nam znakomity zespół, o który za pewne jeszcze nie raz usłyszymy. "Queen of The Midnight Fire" to pozycja obowiązkowa dla maniaków heavy metalu lat 80.
Ocena: 8.5/10