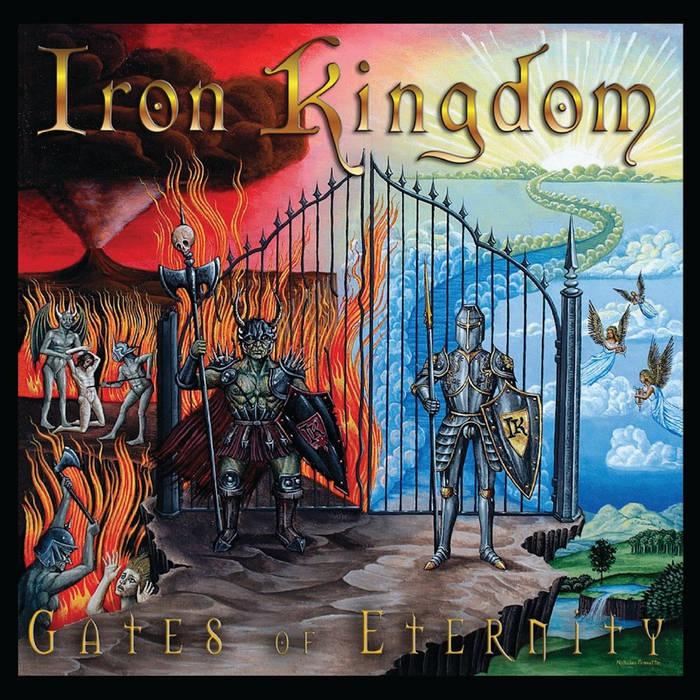 Można grać dla pieniędzy, ale można grać też z miłości do metalu, z pasją, z pomysłowością. Głód sukcesu i zamiłowanie do starych wyjadaczy jest najbardziej zauważalne wśród młodych kapel i to właśnie tego typu formacje potrafię oddać się swojej pasji, miłości do metalu nie patrząc na modę, na to co teraz jest na topie i to czego oczekują słuchacze. Robić to co się lubi, robić to dobrze i żyć z godnie z miłością do heavy metalu to najwidoczniej motto kanadyjskiej formacji Iron Kingdom. W roku 2011 ta młoda formacja pokazała, że debiutanci wcale nie oznacza zespół bez zapału, pomysłu na granie i bez talentu kompozytorskiego. Teraz przyszedł dzień sądu ostatecznego i potwierdzenie owego talentu. Czy Iron Kingdom swoim nowym albumem "Gates Of Eternity"porwie metalową brać, czy potwierdza swój poziom muzyczny i pomysłowość z debiutu?
Nie będę was trzymał długo w niepewności i od razu powiem, że tak. Iron Kingdom nie zbacza ze swojej ścieżki obranej na debiucie. Ścieżki wyznaczonej przez brytyjski heavy metal spod znaku Saxon, Iron Maiden czy Judas Priest, a także europejski power metalu w stylu Helloween. Ktoś powie kolejny klon Iron Maiden, ale właśnie w takiej stylizacji ta kapela sprawdza się najlepiej i nie wyobrażam sobie ich eksperymentujących. Bas niczym Steve Harris, klimat Nwobhm, brytyjskiego heavy metalu, duża dawka melodii, pojedynki na solówki i Chris Osterman, który ma mocny i wyraźny głos, a wpływy Dickinsona i Kiske słychać. Nowy album jest bardziej dojrzały i bardziej dopracowany, a te cechy odnajduje swe odzwierciedlenie w umiejętnościach muzyków jak i materiale. Co na pewno się rzuca w oczy to fakt, że "Gates Of Eternity" wypełniony jest 5 kolosami, która stanowią główną atrakcję tego krążka. Ponury "
Egypt
", true metalowy "C
rowned in Iron"
czy w końcu utrzymany w stylizacji Iron Maiden "
Chains Of Sollitude
" to kawałki o których łatwo się nie zapomina. Nie brakuje też szybkich, zwartych petard jak "
Guardian Angel
" ani instrumentalnego kawałka, który jest tutaj "
Candeloro
".
Dwa znakomite albumy podrząd, ciekawe pomysły na utwory, których nie powstydziłby się Iron Maiden. Dopracowanie i miłość do metalu znów wyróżniają Iron Kingdom i ich album tle innych. Uwaga Iron Kingdom w natarciu i każdy fan heavy metalu nie powinien ominąć tego wydawnictwa! Gorąco polecam.
Ocena: 9/10
P.s Podziękowania dla Vlada Nowajczyka za udostępnienie tej płyty