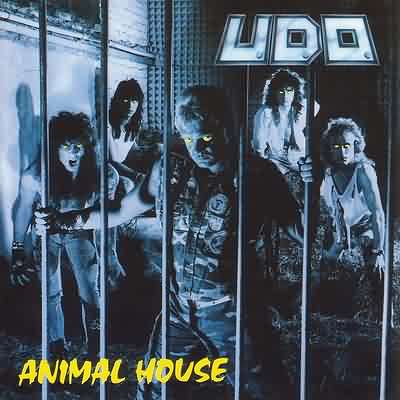 W momencie glorii i chwały Accept przeżywa kryzys. Po genialnym Rousian Roulette od zespołu odchodzi wokalista Udo Dirkschneider. A żeby znany w metalowym świecie to też szybko zebrał zespół i zaczął tworzyć pod prostą i kojarzącą się z wokalistą nazwą U.D.O. Oczywiście dobrał doświadczonych muzyków z znanych zespołów. Mamy Mathiasa Dietha z zespołu Sinner, są tez muzycy z Warlock, a mianowicie Frank Rittel oraz Peter Szigeti. Na perkusji zaś Thomas Franke A muzycznie co mamy? Taki Accept wymieszany ze stylem Warlock. Tak o to w roku 1987 wychodzi na jaw pierwszy solowy album U.D.O- "Animal House". Dirkcschneider miał ułatwione zadanie bo był znany i muzyka w jakiej się obracał też była znana, więc rewolucji raczej nikt nie oczekiwał, ba nawet liczono na Acceptowy album wydanym pod imieniem wokalisty tej zasłużonej formacji.
Zaczyna się tajemniczo, mrocznie i tak o to wkracza tytułowy "Animal House" i mamy pierwszy klasyk w solowej karierze UDO. Początek i stylistyka nasuwa Accept. Również doszukać się można grającego w podobnym klimacie Warlocka. Jednak różnicę między Accept od razu można usłyszeć. Bo Accept to nie tylko skrzeczący Udo. To także Baltes, Wolf i na pewno nie dorównają im muzycy z Warlock. W riffie nie ma ani takiego polotu, ani takiej finezji co w stylu Hoffmana. Dobre rzemiosło i nic ponadto. Mamy typowy heavy metalowy riff i prosty, irytujący i zarazem chwytliwy refren. Dobry otwieracz, który jest jednym z najlepszych kawałków na tym albumie. Najlepszym utworem na albumie bez wątpienia jest speed metalowy "Go back to Hell" i tutaj słychać echa Accept, ale sekcja rytmiczna i partie gitarowe to już raczej Warlock. Tutaj mamy nieco inny styl niż ten który Udo prezentował w Accept. Fajny, taki rasowy heavy metal. Jest to oczywiście wtórne i oklepane, ale przyjemne w odsłuchu, do tego takich kompozycji jak ta na albumie jest nie wiele.
Kolejnym klasykiem formacji UDO jest "They want War" i co by nie napisać, jest to jedna z najłagodniejszych kompozycji na albumie. W tym utworze bardziej Udo udał się w stronę melodyjnego rock,czy hard rocka. Jest to udany zabieg komercyjny, bo utwór odniósł sukces jako singiel i jako teledysk, a to że jest grany na każdym koncercie świadczy o tym jak fani kochają ten utwór. Jest to spokojny kawałek, bardzo rytmiczny i łatwo wpadający w ucho i do stylu Accept zbytnio by nie pasował, jak już to do Warlocka. Klasyk, który należy znać. "Black Window"to taki typowy średniak. Jest heavy metal to fakt Tylko, ze z tego grania nic tutaj nie wynika. Mamy średniej klasy motyw, czyli taki jakich pełno na tego typu płytach, a refren też jakiś taki bez pomysłu. Jedynie solówki mają jakiś poziom. Ballada w postaci "In the darkness" też brzmi przyjemnie, ciepło i rytmicznie, ale to też co najwyżej poziom dobry. Lepsze w wykonaniu udo słyszeliśmy w Accept,ba nawet na późniejszych albumach zdawały się lepsze. Oczywiście na albumie jest pełno żwawego grania, gdzie można się delektować speed metalem opartym na patentach Warlock i Accept. Taki " Lay down the Law" też brzmi jak cały album a więc średnio, lub dobrze. Nie ma w tym utworze nic nadzwyczajnego. Mamy po raz pierwszy taki bardziej Acceptowy refren, również chórki wzorowane na poprzednim zespole Udo, a że średni to inna sprawa. Partie gitarowe bez polotu, bez energii, pomimo że sekcja rytmiczna jest nieco szybsza. Znów ciężko jakieś plusy wytknąć. Może solówki? Dobrze nawet wypada "We want it loud", w którym słychać nieco Accept. Mamy nieco ciekawszy motyw gitarowy, a sam refren lepiej brzmi niż 3 ostatnie utwory razem wzięte. Jest szybko, dynamicznie i znów można mówić o nieco mocniejszym punkcie na albumie. Rockowo i nieco nie typowo brzmi "Hot Tonight". Klimat Accept jest słyszalny, ale utwór jest bardziej rockowy tym razem niż Heavy Metalowy. Czyżby ukłon w stronę pierwszych alt spędzonych w Accept? Ja tam temu przeciętnemu kawałkowi mówię stanowcze nie. Poprawa następuje dopiero w "Warrior". Jest jakieś atrakcyjne tempo, chwytliwe melodie, jest ciekawy motyw gitarowy i mamy ducha Accept. Refren też brzmi jak odrzut Accept. Gdy się nie ma tego co się lubi, lubi się to co ma i tak jest w przypadku tego utworu. Najkrótsza naalbumie kompozycją jest "Coming Home" i znów rzemiosło, przeciętniactwo i wstyd ze wyszło to spod ręki byłego wokalisty Accept. Solówki warte przesłuchania, a resztę można przewinąć. No bo co z tego, ze jest szybko, dynamicznie, skoro jest to nudne i wtórne? Uśmiałem się przy "Run For Cover" bo perkusja i klimat nasunęły mi utwór "Heavy Duty" Judas Priest. Jest mroczny klimat , jest epicki motyw, szkoda, że nie wykorzystano go w pełni. Jest też w końcu ciekawa partia gitarowa. Jest też w końcu refren, który porywa i wpada w ucho. Bez wątpienia jedna z ciekawszych kompozycji na albumie.
Wydawałoby się, że znane nazwisko lidera, że jego doświadczenia zebrane w macierzystym accept, a także doświadczeni muzycy zapewnią solidny heavy metalowy album. Jak można usłyszeć są to popłuczyny po Accept i Warlock. Krążek nie dorównuje poziomem ani jednemu, ani drugiemu. A przecież heavy metal grany przez UDO na tym albumie opiera się na patentach Accept czy warlock. Jednak są one gorzej podane niż w wyżej wymienionych zespołach. Poza tym muzycy choć doświadczeni, to jednak nie są ani Wolfem ani Baltesem, nie mają takiego talentu i raczej należy rozpatrywać ich jako dobrych rzemieślników, którzy grali obok dwóch największych ikon niemieckiego heavy metalu. Zabrakło pomysłów, zabrakło tego geniuszu w komponowaniu, jak słychać, Udo bez Wolfa i baltesa, też wiele nie mógł zrobić i tak o to mamy przeciętny materiał. Do czasu, do czasu. Nota : 5/10