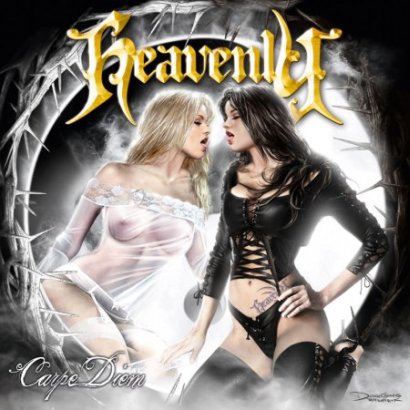 Francuskie promienie Gamma Ray tak się określa francuski zespół Heavenly, który gra melodyjny power metal. Tak więc fani Gamma Ray, Freedom Call, Helloween mogą sięgać po każdy album tego zespołu. No właśnie każdy? A co z ostatnim "Carpe Diem" z 2009 roku? No fani już go dawno temu zaorali, a jako szperacz dziury w całym postanowiłem puścić nieco światła na owy album, którego okrytą złą sławą. Czego mogli fani nie polubić na nowy krążku? Pewnie komercyjnego wydźwięku i odejście od typowego power metalu, gdzie klawisze odgrywały znaczącą rolę na rzecz melodyjnego heavy metalu, gdzie jest domieszka power metalu, ale też rocka, hard rocka rodem z Queen. Czyżby Francuzów dotknęła podobna sytuacja co Edguy? Jeszcze jakieś zmiany? No cóż wymienić należy okładkę, która jakoś bardziej kojarzy mi się z Dark Moor niż z Heavenly. No i dość ciekawym zjawiskiem jest skrócenie materiału. Zespół był mi do tej pory znany jako zespół pełen pomysłów, który potrzebuje minimum godzinę czasu, do wyłożeniu wszystkiego, tym razem mamy tylko 45 minut muzyki. Oczywiście cały materiał skomponował lider Benjamin Sotto. Muzycznie zespół obniżył loty, gdyż nie ma takiego szaleństwa i ciężaru co na "Virus". Powiem więcej to jest najłagodniejszy album tego zespołu, czy zły to już chyba kwestia gustu.
Jeśli się lubi "Tinnitus sanctus" Edguy'a to i się polubi owy album. Dlaczego? Posłuchajcie "Carpe Diem" i "Ministry of saints" i co słychać podobieństwo w refrenie, w riffie i w partii gitarowej podczas refrenu? Jak nie to marsz do laryngologa. Jest wolniejsze tempo, bardziej słychać melodyjny metal z domieszką hard rocka, niż power metal. Klawisze, które zawsze były bardzo wyraźne tym razem bardziej schowane, za partiami gitarowymi i za wokalem Sotto, który tutaj może i śpiewa pod Kai Hansena, zwłaszcza w niższych rejestrach, aczkolwiek podobieństw za wiele nie ma. Ale skoro jesteśmy przy liderze Gamma Ray, czy słychać promienistych? Ano nie i owo przyklejanie im owego miana staje się być nieco naciągane. Dobry luzacki kawałek, który jest taki przebojowy i tutaj chyba o to chodzi. Nie liczy się ciężar i szybkość, i no refreny i chwytliwość, a więc przebojowość, a tego temu utworowi nie można odmówić. Bardziej w stylu francuzów jest "Lost in Your Eyes" , który ma odpowiedni potencjał, ma owy styl z wysuniętymi klawiszami i z tą szybkością i skocznością. Jednak słychać to złagodzenie, ten słodszy wydźwięk i na stawienie na przebój. No bo jak inaczej nazwać ten niebiański refren, który może nieco romantyczny, może nieco słodki, ale chwyta od razu i nie puszcza. Tym razem słychać coś z Gamma Ray w gitarach, coś w konstrukcji samego albumu i nawet refren taki znajomy. Wspominałem na początku i nie raz jeszcze wspomnę, że ten album momentami brzmi jak Queen i to słychać w poszczególnych partiach gitarowych czy melodiach. Najlepszym tego przykładem jest ballada "Farawell". Czyżby próba stworzenie drugiego Bohemian Rhapsody i muszę przyznać, że wiele nie brakło. Podobny podkład emocjonalny, podobne rozwiązania, a więc spokojne wejście, pianino i ciepły wokal Sotto pod Merkurego i szybsze granie w środku, do tego solówki które gdzieś kiedyś słyszałem przy kawałkach Queen. No i może nie jest to czego fani oczekiwali, ale podoba mi się podejście zespołu do muzyki i do takiego rozwiązania. Nie zawsze wolno, oznacza słabo i to jest tego przykład. Z tego albumu, praktycznie każdy utwór by się nadawał do promocji, ale wybrano "Fullmoon", który ma może popowy wydźwięk, ale nie brakuje mu energii, nie brakuje chwytliwości co słychać w refrenie, ale kawałek bardziej ma zaloty do hard rocka z klawiszami, nawet solówki nie starają się tego zmienić. Hard rock, czy nie i tak kompozycja mi się podoba i co mi możecie mi zrobić? Ledwie wyszliśmy z rejonów Queen i znów w nie wracamy w "A better me". Podobny patent co w poprzednim tego typu utworze. Tym razem nie brakuje emocji, ale zespół tutaj w dość ciekawy sposób zinterpretował styl Queen dodając nieco własnych patentów w postaci szybszych motywów i nieco ciekawych przeplatających się motywów w tym refren taki w ich stylu. Ale wokal, melodie i pianino, no i solówki, czy też chórki to wypisz, wymaluj Queen, dla wielu pewnie zdrada własnego stylu. Ale kupuje to ich granie pod Queen. Nawet Kai Hansen na Heading For Tommorow grał momentami pod Queen i jakoś wyszło mu to na dobre. Najdłuższa kompozycja na albumie i jedna z tych najbardziej podniosłych, mająca zaloty nawet pod metal operę. Szukacie punktów stycznych z Gamma Ray? Najwięcej ich jest na najostrzejszym kawałku czyli na "Ashen Paradise". Dobra początek może i symfoniczny, ale to mi się kojarzy z intrem do "New world Order" i ta melodia i to w jaki sposób wyśpiewywane są słowa, no istne kopiuj wklej. Dalej krzyk Sotto to prawie okrzyk jak u Kai'a wystarczy się przysłuchać uważnie. Jasne, że może wydźwięk jest może nieco słodszy, nieco tutaj lżej. Ale sekcja rytmiczna i riff to wypisz, wymaluj Gamma Ray. Nawet te przejścia i zmiany motywów to Gamma Ray. Skojarzeń innych nie ma się także przy solówkach. No a ten motyw :
"Ride up and break the spell
The reign of terror
Victims of witchcraft
(and several) reasons to die for
(united) nations soldiers screaming loud
Reach for a better future
Just fight to rule then
Fight to rule them all"
to kopia z "Razorblade Sigh Gamma Ray i tego motywu:
"Tires are burning on the way through hell
Fallen angel set me free
Wheels are turning, take me far below
Holding out my hands in victory".
Nie wierzących zapraszam do porównania obu motywów. Jest to jeden z najlepszych utworów na płycie i w dodatku najbardziej w stylu Gamma Ray. Tak blisko GR zespół jeszcze nie był i słuchając tego kawałka można zgodzić z tym mianem 'francuskich promieni gamma". Lecz takich utworów na tym albumie jest nie wiele i właściwie ten jeden jest taki wyraźny. Średniej klasy jest "Face of Truth" gdzie znów więcej heavy metalu, więcej kombinowania niż prostego grania. Ciekawa jest tylko melodia, który jest głównym motywem utworu. Ciekawym zabiegiem jest 'Ode to joy' hymn który by długo hymnen Unii Europejskiej i właściwie kawałek na początku kojarzy mi się z wykonaniem Ritchiego Blackmora z Rainbow i nie wiele ten kawałek ma wspólnego z tamtym utworem. Tam była gracja, była sztuka. A tutaj słychać coś z Queen, słychać Helloween, i zaraz za nimi Gamma Ray, Freedom Call. Mieszanka zabójcza to też utwór zaliczam do jednych z najlepszych na płycie. Mamy styl zespołu z pierwszych płyt, jest szybkość, jest melodyjność i chwytliwość. Również coś ze starego stylu słychać w "Save Our Souls" gdzie solówki mają lekkie zacięcie neoklasyczne, a cały utwór zaś tkwi gdzieś pomiędzy power metalem i pop rockiem. Może nie jest to genialny kawałek, ale jest chwytliwy, bardzo melodyjny i jest to kolejny przebój na tym albumie.
No płyta może inna niż poprzednie, łagodniejsza, bardziej rocka, bardziej przebojowa, co za tym idzie bardziej komercyjna. Ale czy zawsze się liczy ilość ofiar, ilość zniszczonych obiektów? Ano nie, czasami potrzebna jest muzyka do odprężenia, do relaksu przy łagodnych, wręcz anielskich melodiach, a takie mi dostarcza ten album. Nie ma tutaj ciężaru, agresji co na Virus, nie ma też tej szybkości, tej dynamiki co na Dust to Dust, ale album jest od początku do końca wypełniony przebojami. Jest urozmaicenie; bo są szybkie petardy pod Gamme Ray, jest wolno i emocjonalnie niczym w balladach Queen, jest tez podniośle niczym w Edguy. Płyta nie jest przełomowa, ani też nic nie wnosi do zespołu, ale pokazuje że można grać atrakcyjny, melodyjny no właśnie power metal? Raczej nie. Melodyjny heavy Metal z domieszką hard rocka i power metalu, czyli coś jak ostatnie albumy Edguy. Tak więc zdania są podzielone i najlepiej samemu posłuchać i ocenić. Nota: 8.5/10