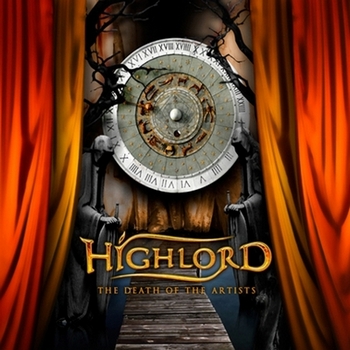 Są zespoły, które wypada znać choćby z nazwy, gdyż to co prezentuje dany zespół najlepiej przemilczeć. Jak dla mnie takim zespołem jest włoski
Highlord
grający power metal. Zespół działa na scenie ładnych kilka lat i dorobił się kilku płyt i często jest wymieniany wśród potęg tamtego kraju z tego gatunku muzyki. Potencjał mają i doświadczenie w sumie też, bo zespół został założony w 1996 roku, a pierwszy krążek ukazał się 3 lata później. Ja jednak ciągle staram się do nich przekonać. Moja przygoda z tym zespołem zaczęła się od coveru Helloween, który okazał się na tyle dobry, ze zagłębiałem się potem w dyskografię i dziwne bo to nie jest takie granie jakiego można by się spodziewać. Mam na myśli poziom prezentowanej przez nich muzyki, jest średni i właściwie tak trzymali przez większość albumów. I dopiero album z roku 2009 tj "
The Death Of The Artists",
którego tytuł sugerowałby koniec działalności zespołu, ale wciąż zespół jest aktywny i pierwszy raz w szczytowej formie. Muzyka na tym albumie nasuwa na myśl, gdzieś Secret Sphere, gdzieś Rhapsody, a gdzieś nawet Silent Force. Po raz pierwszy w ich muzyce słychać takie wyraźne ślady progresywnego metalu i pierwszy raz płytę wysłuchałem do końca i nawet mi się to spodobało, choć trzeba ustrzec każdego czytelnika. To nie jest jakieś genialne granie, tutaj nie uświadczymy geniuszu, to jest dobre granie, melodyjne i w miarę chwytliwe, a więc coś dla mało wymagających słuchaczy.
Prosty riff, a przede wszystkim melodyjny słychać w otwieraczu "
Simple man
", gdzie zespół najwyraźniej wyciągnął wnioski ze wcześniejszych nie powodzeń. Mamy i szybsze fragmenty, ale też i nieco wolniejszych, bardziej nastawionych na klimat. Refren troszkę zalatuje mi pod Stratovarius i Silent Force. Co ciekawe partie klawiszowe, które słychać w tle to Dark Moor ten neoklasyczny, którego można było choćby uświadczyć na "Tarot". Solówki Stefano Droetto, krótkie bardziej zwarte, bardziej przemyślane, bez zbędnych popisów. Na plus nawet chwytliwy refren, o co było ciężko w kompozycjach tego zespołu. '
Every Thrash of Me
" nazwa sugeruje Thrash i w sumie gdzieś tam w riffie jakieś elementy zespół przemycił. Kompozycja nieco ostrzejsza, bardziej progresywna co słychać w klawiszach. Bardzo podoba mi się to skoczne tempo i ten taki obstukany refren, bo gdzieś podobny słyszałem. Każdy znajdzie coś dla siebie, bo jedni usłyszą Sacret Sphere, a inni choćby tak jak ja Stratovarius , co słyszę zwłaszcza w sekcji rytmicznej. Dobra dynamika i chwytliwe melodie i mamy jeden z mocniejszych kompozycji na albumie. "
Cantitacle Of Flesh
" tutaj jeszcze więcej tego Stratovariusa słychać. W brzmieniu, w melodiach, w wokalu, w klawiszach. Refren zaś podciągnąłbym do Silent Force. Nieco słabsza kompozycja, bo gdzieś tempo nieco siadło, gdzieś zatracili energii po dwóch kompozycjach. Honor utworu ratuje jeden z najlepszych refrenów na płycie, taki nieco bardziej podniosły i mający odpowiednie szybkie tempo. Ogólnie album zdominowały ciepłe i takie nieco lżejsze melodie, nawet bardziej rockowe co słychać w "
It takes No Passion
" i może nie jest to jakieś genialne, ale to totalne dno też nie. Zwłaszcza warstwa instrumentalna mi się podoba, taka nieco bardziej przemyślana i bez tego silenia się na power metal. Jeden z takich bardziej komercyjnych kawałków na albumie. Jednak lepiej zespół brzmi w takim tytułowym "
The death of artist
" i tym razem główny motyw, melodie, partie klawiszowe przypominają mi choćby Pegans Mind i Symphony X, za którymi nie przepadam. Jakoś to nie wpłynęło to na moje zdanie o tym utworze. Jest ciekawy motyw, czy riff taki nieco cięższy i zarazem taki bardziej progresywny, ale jest to na swój sposób chwytliwe. Bardzo udane udaje się wpleść tutaj nieco wolniejsze fragmenty. Refren też taki bardziej rockowy, taki chwytliwy i znów szybko wpada to w ucho. Helloween, Stratovarius, Silent Force można usłyszeć w "
Dance in a flame
" i jest to jedna z takich szybszych petard, jedna z takich która się wybija ponad przeciętność. Mamy szybką pędzącą wręcz sekcję rytmiczna, mamy łatwo w padający w ucho riff, a sam refren też jest przebojowy. Czyżby powrót do poprzedniego stylu? Może i tak, ale w tamtym stylu zespół jakoś nie dał mi takich hiciorów. Solówki wreszcie świadczą o gatunku, w jakim zespół się obraca, bo poprzednie troszkę wprowadzały w błąd. Dobrym kawałkiem jest "
The scream"
Słychać tutaj neoklasyczne patenty w główny motywie. Jest dobre tempo, jest skoczność i nawet przyjemny dla ucha refren. Dobry rozluźniający kawałek, choć po taki wstępie jaki tutaj mamy należało oczekiwać jednak czegoś więcej. Dobrze też brzmi "
Slave of darkness
", gdzie też jest dość ciekawa melodia, jest nieco agresji w momencie zwrotek i dobra sekcja rytmiczna. Dobry melodyjne power metal z chwytliwym refrenem, a tyle dobrych refrenów u tego zespołu w życiu nie uświadczyłem. Całość zamyka nieco nijaki, taki bardziej rockowy "
Queen in My pocket".
To szybki rachunek, plusy? Szata graficzna, brzmienie, które jest takie ciepłe i takie bardziej hard rockowe, forma muzyków w tym wokalisty, niecały 40 minut muzyki, no i same kompozycje takie bardziej przekonujące, są bardziej atrakcyjniejsze, bardziej przebojowe. Minusy? To wciąż rzemieślnicze granie, ale to zespół właśnie prezentuje od początku swojej kariery i nawet progresywne patenty jakoś tego nie zmieniły. Ale coś jednak to wszystko dało. Co takiego? Najlepszy album zespołu Highlord. Nota:
7/10